Monitoring Wastewater Overflows
Monitoring Wastewater Overflows
Welcome to the City of Port Alberni's Monitoring and Reporting service for the Combined Sewer Systems in our community and the Combined Sewer Overflow events that may occur throughout the year.
BACKGROUND
Combined Sewer Overflows (CSO) – also known as Combined Sewer Systems (CSS) – are wastewater systems where sanitary wastewater from homes (sewage) is combined with the stormwater run-off from roofs, yards and driveways ‑ all flowing into the same pipe. Originally introduced in the 1800s, they are quite common in communities developed earlier than the 1940s.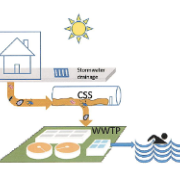 During regular weather, all of this wastewater can be properly treated. However, during heavy rain events, the combined volume cannot be properly treated and is released without meeting provincial/federal standards.
CSO outfalls can be found here.
Through our Liquid Waste Management Plan (a long-term plan for wastewater management in the City), separating stormwater from sewage pipe has been identified as a priority and requires that the City is committed to spend $1.3M each year from our Capital Program for the next 50 years, to complete the separation of combined sewers and to eliminate CSO events. The Combined Sewer Overflow Separation Project is underway – you can read more about it here.
REPORTING TO THE PUBLIC
As the City works to move forward the infrastructure upgrades required to address this issue, it is also committed to providing advisory signage at each outfall location and to advising the public, First Nations and Provincial Government every time there is an overflow event that releases raw sewage into the harbour, within 12 hours of an event. In addition, we are obligated to submit an annual report to the Federal Government on the number of events and flows, as well as our actions taken to reduce them.
Installation of monitoring equipment at the four CSO outfalls is now in place to:
notify the public the instant a CSO event occurs;
determine when the event ceases and what volume of combined sewage was released at each of the four outfalls; and
enable analysis of the recorded data to further optimize the CSO program.
The MAP below shows current outfall water quality conditions and the TABLE lists any recent incidents.
CONTACT US
For more information, contact:
Rob Dickinson,
City of Port Alberni
* Terms and Conditions
The above map is updated regularly, providing current information for each outfall location. If you remain on this page for an extended period of time, you will need to refresh the page on your browser.
Data errors may occur due to a number of causes, such as instrument malfunctions or power outages. Therefore, the data and information provided are subject to change, without notice, pending the application of quality assurance and verification procedures.