Volunteering with Port Alberni Community Policing
Volunteering with Port Alberni Community Policing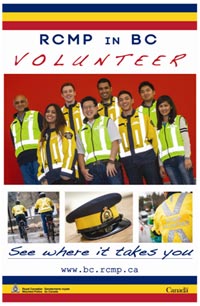 Become one of the more than 6000 volunteers contributing to the safety and security of their communities. The RCMP and City in Port Alberni values your commitment of time, knowledge, and talent – all working toward our shared goal of a Safe and Secure Canada.
There are a number of crime prevention programs currently in operation in Port Alberni. Local volunteers from all walks of life with a wide variety of skills donate their time to the promotion of a safer community for all community members. residents.
Below the programs are detailed, however additional information and application forms are available at the Community Policing website.
CRIME WATCH PATROL
The Crime Watch Patrol (COPS) is a group of Community Policing volunteers donating their time to conduct patrols within the community, acting as extra eyes and ears for the police. Crime Watch patrols all areas of the city and reports suspicious activity they observe to the detachment for further action. Reports can range from an insecure premise to the location of a missing person, making their contribution of exceptional value to the detachment and the community as a whole. The volunteers also assist with the delivery of crime prevention tips to homes and neighbourhoods where a crime has occurred, as a method of both warning of the threat and encouraging them to take steps to protect their property. Crime Watch video: Crime Watch
SPEED WATCH/DISTRACTED DRIVING WATCH PROGRAM
The Speed Watch/Distracted Driving Program in Port Alberni is run in conjunction with ICBC which promotes awareness of the dangers of speeding and distracted driving. Community Policing Volunteers attend areas that have been identified as common speeding zones and set up radar boards that detect the speed of passing motorists. The vehicles that are determined to be traveling significantly above the posted speed limit are recorded and letters of caution are sent to the registered owners advising them of the incident and the fine for the infraction. Volunteers also attend intersections looking for drivers using electronic devices. Letters of warning are also sent to registered owners advising of the infraction. Speed Watch video: Speed Watch Distracted Driving video: Distracted Driving
Property Crime Awareness Letters
Volunteers notify residents on streets where property crimes have been reported with residential safety information. Click on the link to learn more: Property Crime Awareness
Project 529 Bike Registration
Volunteers set up registration stations in partnership with local bike shops and community events to register identifying features of owners bikes using the free Project 529 Garage application. Click here Project 529
Auto Crime Prevention
Volunteers patrol through parking lots looking for stolen vehicles and for vehicles that are unsecured or have visible valuables in place prime for theft. They complete a service brochure as a means to inform the owner of the vehicle to be more aware of being a potential victim of theft.
Community Events
Volunteers may be called upon to provide support at community events on behalf of the City and RCMP. Duties could include: staffing an information booth, bike or scooter safety events, parades, bike registration, distributing crime prevention informational brochures to the public.